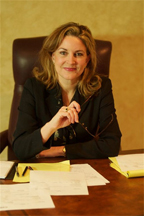 Kristan Peters-Hamlin
Managing Partner
Download VCard
Kristan Peters-Hamlin has litigated in thirty states in cases involving employment discrimination, torts, retaliation, violations of Dodd Frank and Sarbanes-Oxley, whistleblower claims, defamation, executive compensation, unfair competition, trade secrets, criminal, commercial and constitutional law in both single plaintiff and class action lawsuits involving both state and federal claims.
Kristan Peters-Hamlin has thirty-seven published decisions in her name, has tried dozens of cases to verdict, has written over fifty appellate briefs and has had more than forty appellate arguments.
She served as an Assistant U.S. Attorney in Washington D.C. for nearly six years, in both the Criminal and Civil Divisions. In the Civil Division, she defended the United States and its departments and agencies in discrimination complaints. Prior to law school, Kristan Peters-Hamlin worked as an analyst in the Labor Relations Department of the international division of Shell Oil ("Pecten International") in Houston, Texas, and Douala, Cameroon. She has lived in four countries and speaks four languages.
Education
J.D., The University of Texas School of Law, Austin, Texas, 1987

Texas International Law Journal, Symposium Editor
Published Note -- "The Impact of Islamic Revivalism on Contract and Riba Law in Saudi Arabia Egypt and Iran", Texas International Law Journal, 1987
B.S., Cornell University, 1982
Bar Admissions
State Bars:
Federal Bars
U.S. District Court for the District of Connecticut
U.S. District Court for the Eastern District of New York
U.S. District Court for the Southern District of New York
U.S. Court of Appeals for the D.C. Circuit
U.S. Court of Appeals for the Second Circuit
U.S. Court of Appeals for the Fourth Circuit
Honors and Awards
"New York Super Lawyers for Employment Law," Magazine of Law and Politics, 2006, 2007
Selected by the Justice Department to Serve on the Rwanda War Crimes Tribunal, 1995
Classes/Seminars
"The Glass Ceiling," Vital Voices, Buenos Aires, Argentina, 2008
"Four Years After SOX: Where Are We? A Review of SOX Retaliation Cases", Associate of Corporate Counsel of America (ACCA), New York, NY, 2006
"Retaliation and Whistle Blowing Under Sarbanes-Oxley", South Texas College of Law Advance Civil Trial Law Conference, Houston, Texas, 2006
"Negligent Hiring and Retention", Association of Threat Assessment Professionals, Northeast Chapter, New York, NY, 2004
Course Instructor, Trade Secrets Law, Corporate Espionage and Employment Discrimination and Harassment, Maryland Chamber of Commerce, MIB, JREC, and Maryland In-House Corporate Counsel Association
"Trade Secrets,", CLE Marathon, Pillsbury Winthrop, New York, NY, 2004
Employment Law Lecture Series, Touro College, New York, NY, 2000
Civic Activities
Appointed Member, Steering Committee for the Governor's Council on Women and Girls
Elected to four terms as a Westport CT legislator/Member of RTM
President's Council on Cornell Women (member appointed by Cornell President Skorton)
Member, Westport Democratic Town Committee ("DTC"), Former DTC Chair of Communications Strategy Committee, former DTC Chair of Fundraising.
Endowed Scholarship at Cornell University: "The Kristan Peters - Hamlin Fund for Development of Civil Rights for Women in the Middle East"
Vital Voices (NGO promoting international civil and economic rights for women)
United Way, Former Volunteer and Counselor for Abused Children
Chairwoman for 2012 Stamford, CT Democratic Congressional Campaign Committee "Women's Conference"
Member, Cornell University's CAAN ambassador
former Director, Board of Directors, Westport Historical Society (Chair of Fundraising)
Appointed by Westport First Selectman to Longshore 50th Committee, Events Chair
Class Officer, Cornell University
Delegate from the state of Connecticut to the 2012 Democratic National Convention for selecting the President of the United States
2010-present: delegate to the Connecticut Democratic State Convention selecting Governor, U.S. Senators, and U.S. Representatives for the state of CT.
Member, Women's Foreign Policy Group (www.wfpg.org)
Professional Associations and Memberships
Fairfield County Bar Association

Connecticut Bar Association, Employment Law Committee

Women's Bar Association, New York Judicial Selection Committee
International Bar Association, Discrimination and Gender Equality Committee
International Bar Association, Employment and Industrial Relations Law Committee
International Bar Association, Human Rights Law Committee
International Bar Association, Women's Interest Group
Association for a Better New York